Today's photos are from Lynette Rodriguez.
I am a gardener by training: UW-Madison BS '93. Together with my husband Francisco, we run a small landscaping company in northern Illinois, where we design, install and maintain multiple locations. I love color combination vignettes and choose plant material to ensure successful plantings. Our customers allow us to "just do what we do" to keep the gardens beautiful. We love our job!
This is a photo I recently took during an "application" of hoarfrost that covered the trees and shrubs on various mornings. Unfortunately there is no blue sky in the background, but it was still beautiful.
Even more white ice. Rime ice occurs when high humidity combines with cold temperatures.
Sweep and fill in the void – it sounds like a soccer game, but it's a design tactic that I implement to mix colors. A sweep of Diervilla's 'Cool Splash' (Zones 4-8) is highlighted with Coleus 'Vino' (annual) behind and 'American Salmon' Geranium (Pelargonium 'American Salmon', annual) in front. Splashes of powder blue ageratum 'Blue Horizon' (annually) emerge from bed to soothe the richness of the variegated lip. A mix of Cleome 'Señorita Rosita' (annual) and Salvia 'Amistad' (zones 8-10 or annual) provides a break between the dark foliage of the Pennisetum 'First Knight' (zones 7-11 or annual). and the aforementioned Coleus.
Allium 'Millenium' (Zones 5–9) and Angelonia 'Angelface Wedgewood Blue' (annual) are a heavenly game.
Aralia 'Sun King' (Zones 4-8) and Echinacea (Echinacea purpurea, Zones 5-8) didn't seem to fit at first, but when the coneflower was in full bloom I found that I loved this combination a lot more than I expected I would.
A hanging basket with a peach hibiscus (Hibiscus rosa-sinensis hybrid, zones 10-11 or annually). The hanging basket consists of Begonia 'Unbelievable Lucky Strike', Dwarf Marguerite Sweet Potato Vine (Ipomoea batatas, zones 9-11 or annually), Fuchsia 'Bella Mariska' (annually) and Coleus 'Wedding Train' (annually).
Verbena bonariensis (zones 7–11 or annual) with Autumn Joy sedum (Hylotelephium 'Herbstfreude', zones 3–9) in the background.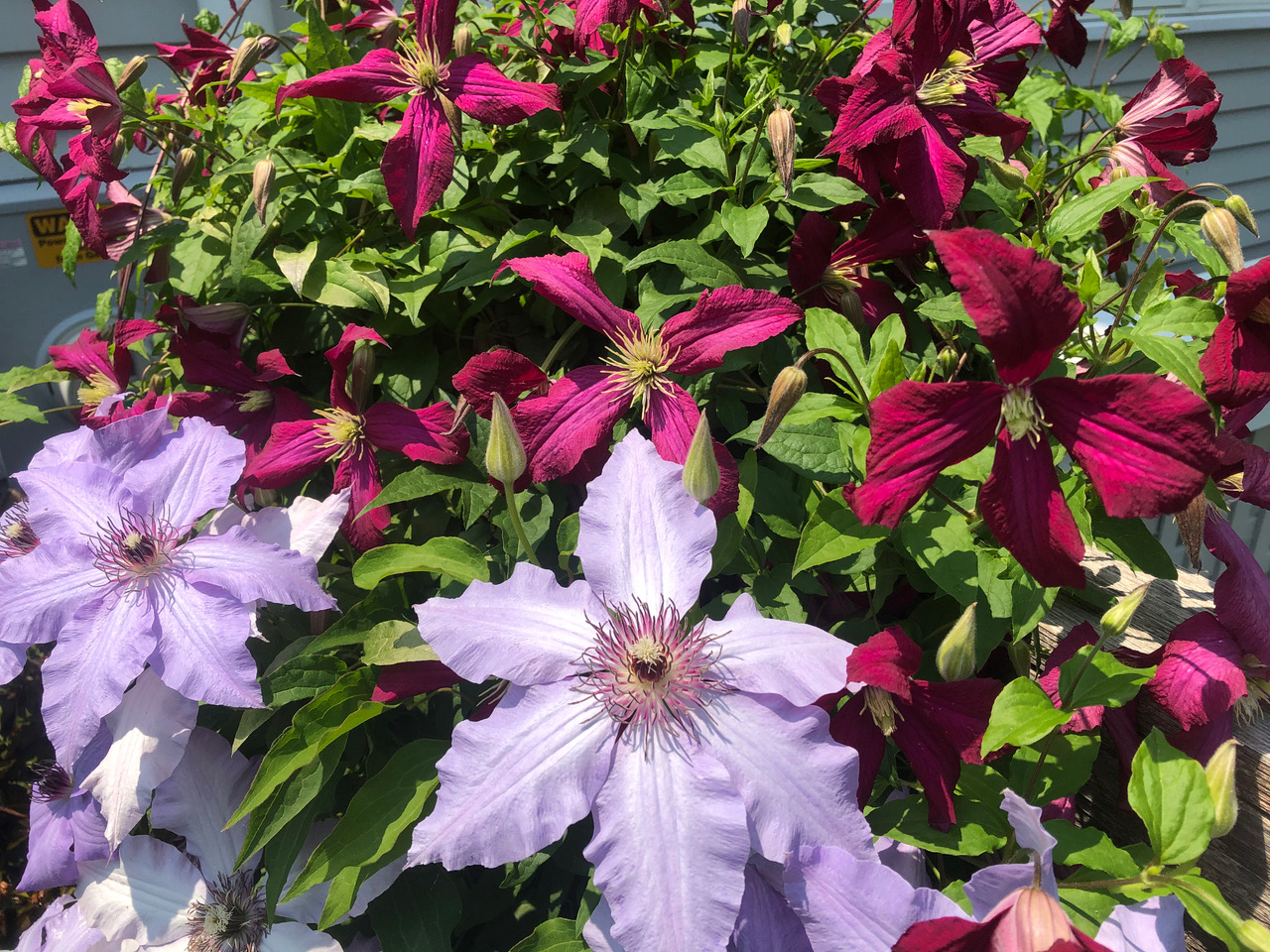 Clematis 'The First Lady' and 'Polish Spirit' (Zones 4-11, although I'm not sure this is a correct passport) mix with perfection.
These are actually three pots that are close enough together to create the feel of a large planting. From left to right: Staubmüller (Jacobaea maritima, zones 7–11 or annual), Scaveola 'Scampi Blue' (annual), Coleus' Vino '(annual), Artemisia' Powis Castle '(zones 4–9), Coleus' Wedding Train '(annually), Pentas' Jessica' (annually), Pennisetum 'Black Knight', Ageratum 'Blue Horizon', dwarf marguerite sweet potato vine, Coleus' Alabama Sunset '(annually), Euphorbia' Ascot Rainbow '(annually) Zones 6– 9) and golden sage (Salvia officinalis 'Icterina', zones 4–8).
This photo was taken in my home on October 5th, 2020. It was "the end of the gardening season in the morning light". I am always sad to say goodbye to the garden in the fall, but the fall morning light and color help ease the pain.
This forest scene makes a stop in the silence of winter. The ancient oaks stretch across the path to provide protection and secrecy to all who linger in their size.
Do you have a garden that you want to share?
Do you have photos to share? We'd love to see your garden, a specific collection of plants that you love, or a beautiful garden that you got to visit!
Submit 5-10 photos to [email protected] along with some information about the plants in the pictures and where you took the photos. We would like to hear where you are, how long you have been working in the garden, what successes you are proud of, what mistakes you have learned from, hopes for the future, favorite plants or funny stories from your garden.
If you want to send photos to the GPOD email box in separate emails, that's fine.
Do you have a cell phone? Tag your photos on Facebook, Instagram or Twitter with #FineGardening!
You don't have to be a professional garden photographer – read our garden photography tips!
Have you already received the GPOD by email? Sign up here.
Get our latest tips, how-to articles, and how-to videos in your inbox.