Sally Matless shares some scenes from her garden in Norwich, Vermont all year round.
A silky purple tulip shines with drops of water. How long do we have to wait for these to start blooming again? I'm already over the winter!
In this wonderful mix of different deciduous plants, the dark purple leaves of Tradescantia pallida 'Purpurea' (zones 7-10 or annual) and Oxalis triagularis (zones 7-11 or annual) contrast wonderfully with the silver-patterned foliage of begonia 'Gyphon' (zones 8– 10 or as annual) and silver lace fern (Pteris ensiformis, annual or houseplant).
These bright chickens and chicks (Sempervivum, Zones 3-9) look like the 'Gold Nugget' variety that moves through various shades of yellow and green touched with orange as the seasons progress, with the lightest colors in the cooler Months of the year year.
When a yellow-green multicolored lip (Solenostemon scutellarioides, annual, perhaps the 'Electric Lime' variety) combines with the electric purple foliage of Strobilanthes dyeriana (annual), then who needs flowers? Both are usually grown annual, but cuttings easily root in a glass of water for winter on a sunny windowsill.
Tender succulents like this lovely Echeveria (perhaps the 'frilled' variety) don't tolerate frost, but they can easily hibernate indoors in cold climates and have leaves as beautiful as any flower.
Tuberous begonias (Begonia hybrid) have flowers that look like roses. They do best in climates with cool summers and, as the name suggests, form underground tubers that can hibernate to grow again next year.
Rich purple bearded iris (Iris germanica hybrid, zones 3–8)
A hardy water lily (Nymphaea, zones 5–9) blooms in a water feature. You don't have to have a pond to enjoy water lilies. Many of the smaller hybrids will grow and flower well in a water-filled container as long as they have plenty of sun.
It's easy to see how 'Waterlily' Colchicum (Colchicum autumnale 'Waterlily', Zones 4–10) gets its name. The large, petal-filled flowers bloom in autumn without any foliage. The leaves come up in spring before they die again in summer. Nothing is visible above the earth all summer until these giant flowers emerge at the end of the growing season.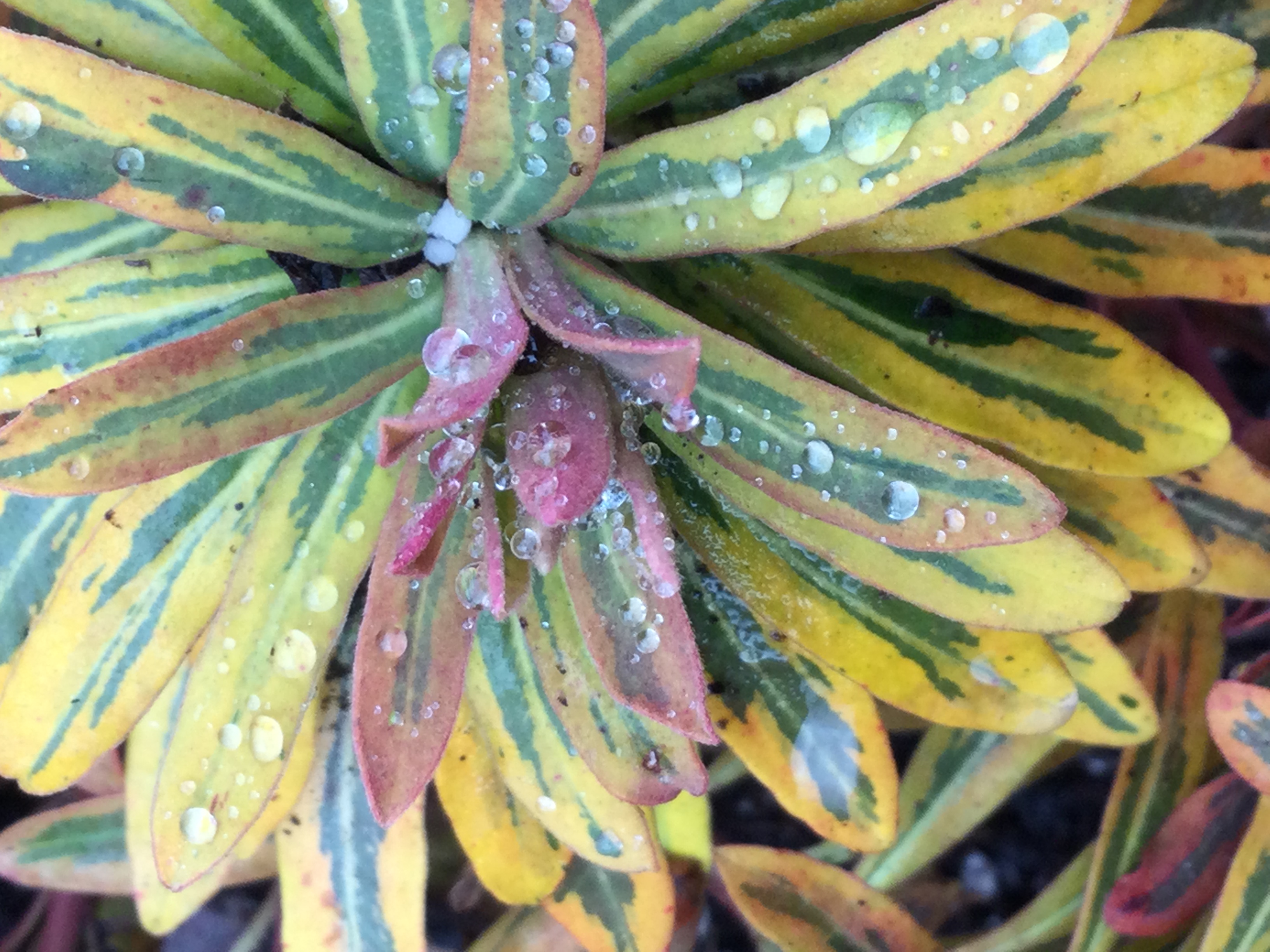 Euphorbia × martinii 'Ascott Rainbow' (Zone 5–9) has incredibly colorful foliage from spring to autumn. What's even better is that it's very resistant to deer and rabbits.
Do you have a garden that you want to share?
Do you have photos to share? We'd love to see your garden, a specific collection of plants that you love, or a beautiful garden that you got to visit!
Submit 5-10 photos to [email protected] along with some information about the plants in the pictures and where you took the photos. We'd love to hear where you are, how long you've been gardening, successes you are proud of, failures, hopes for the future, favorite plants or funny stories from your garden.
If you want to send photos to the GPOD email box in separate emails, that's fine.
Do you have a cell phone? Tag your photos on Facebook, Instagram or Twitter with #FineGardening!
You don't have to be a professional garden photographer – read our garden photography tips!
Have you already received the GPOD by email? Sign up here.
Get our latest tips, how-to articles, and how-to videos in your inbox.